Like us on Facebook to see what we are catching!!
Please view our Facebook page for latest catches!
7/5/18
John, Paul, Jason, and 8 year old Caden out for sea bass and fluke. We had our 10 sea bass limit in no time. Great drop and reel action. Fluking was another story. Slow fluking in the bay with only shorts.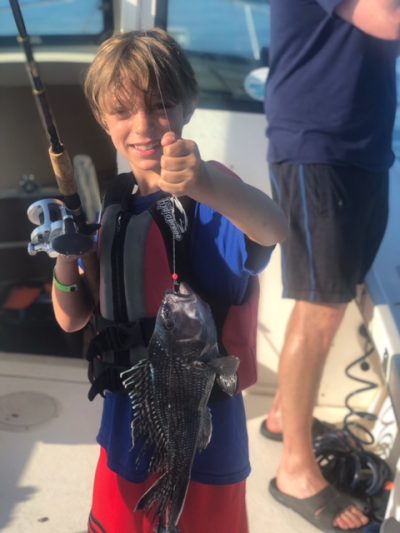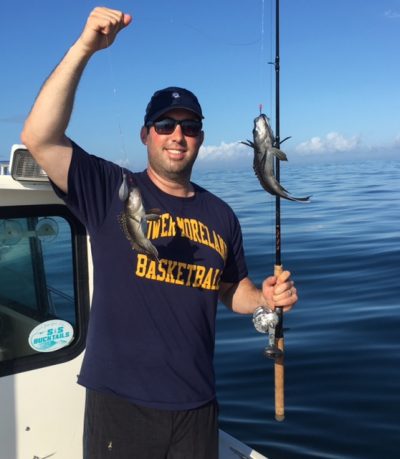 7/2/18
I had Diane, Matt and Emily Garberina of North Carolina out with Joan Coleman of Pennsylvania for a combo sea bass/fluke trip. The group worked through short sea bass and eventually got their limit of 10. Then, we hit the bay for for fluke. Diane had the loan keeper of the 20 or so they caught. The fished taped 19.5″.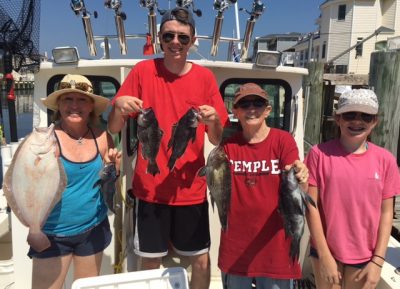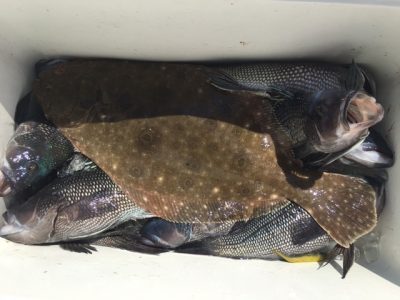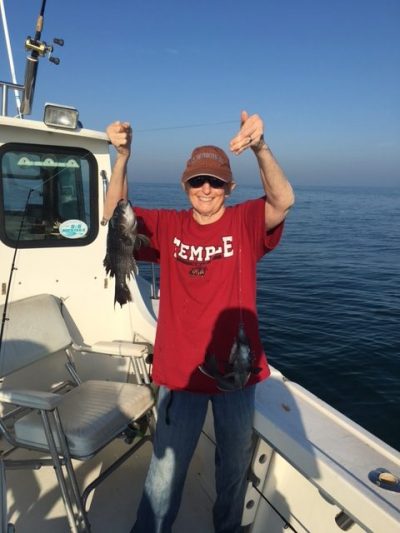 6/24/18
Today I had Janet and Rich Krakowski with sons Rich and Alex aboard for a fluke trip. This was everyone's first time bucktailing for fluke and they learned quick. The foursome put 3 fluke in the box that measured 18″, 19″, and 20.5″. The group had over 20 fish in somewhat challenging conditions, a couple 3 ft. long houndfish and a sundial.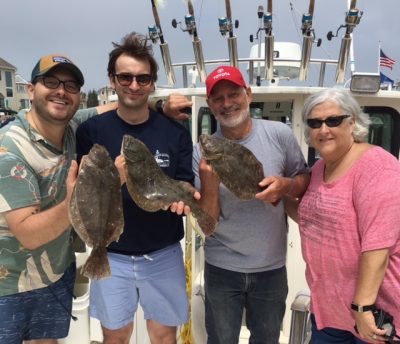 6/17/18
For Father's Day I had "The" Bonnie Anne and our 3 boys, ages 8, 6, and 2. We hit sea bass for an hour and the kids put 8 in the box and then we played with cocktail blues using metals at the inlet. Perfect Father's Day.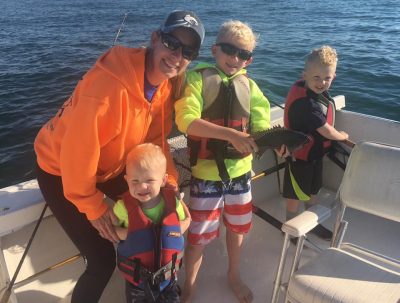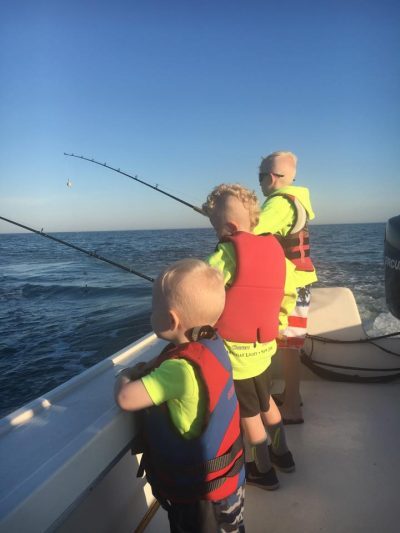 6/16/18
Had Brian Mcgee, Jim, and Jim Sr. out for their annual Father's Day trip. Our first spot had plenty of fish but all short. We moved and ended up boxing 15 sea bass and 3 ling. Brian had the biggest, close to 5lbs. and the group easily had over 100 fish.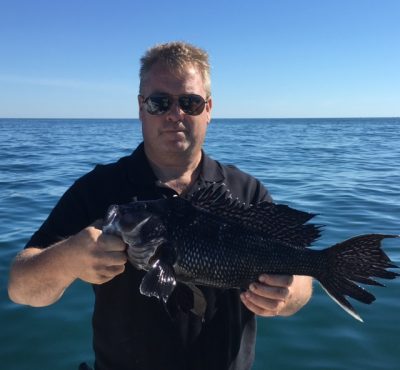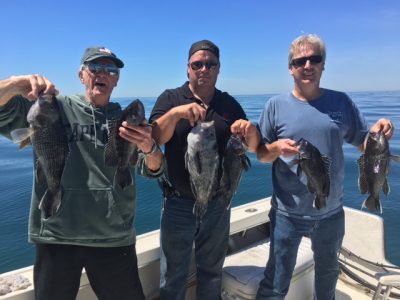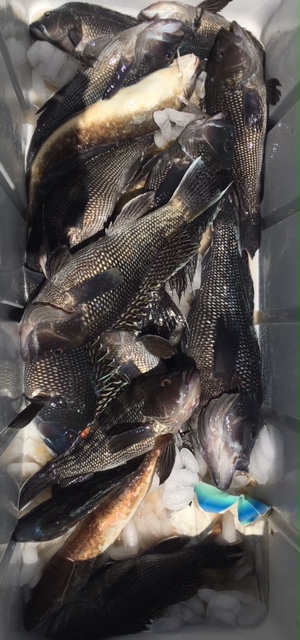 6/10/18
Had Mike and Dana Gabriel out with their boys Michael and Tyler for a quick sea bass trip. In a couple hours the groups caught 14 keepers and close to 100 fish. Played with some cocktail blues in the bay and called it a day.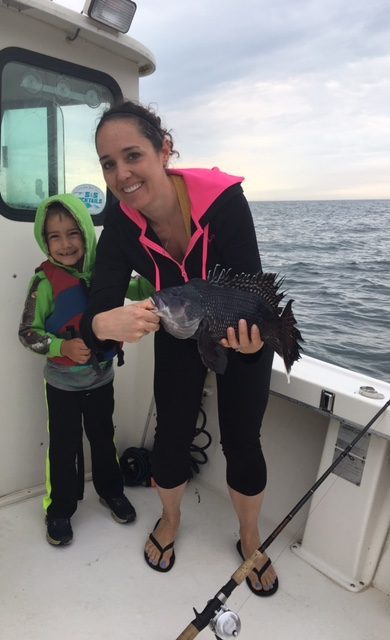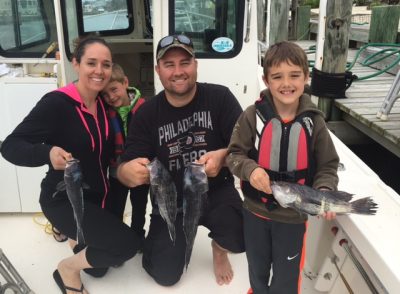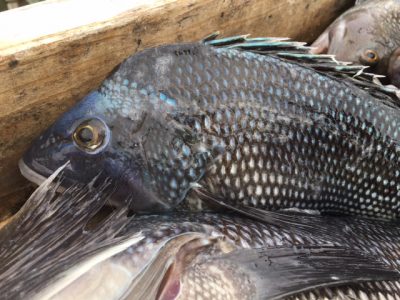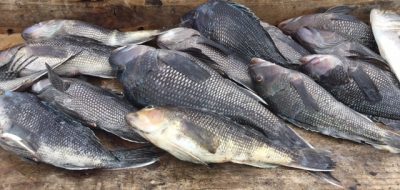 5/26/18
First trip in a while with Les, daughters Airdna and Gretchen, and Ryan. On first drop, Ryan boated an 18″ keeper. But, the ladies would not be outdone! Gretchen had a 21″ and Airdna followed with a 21.5″ before the bite died out on us. A great open and memorable trip for the group, first time ever bucktailing for fluke.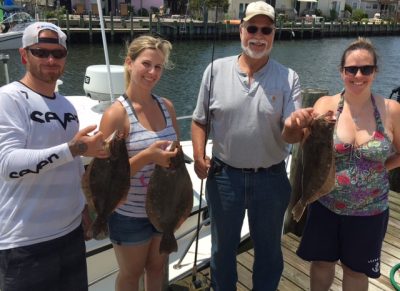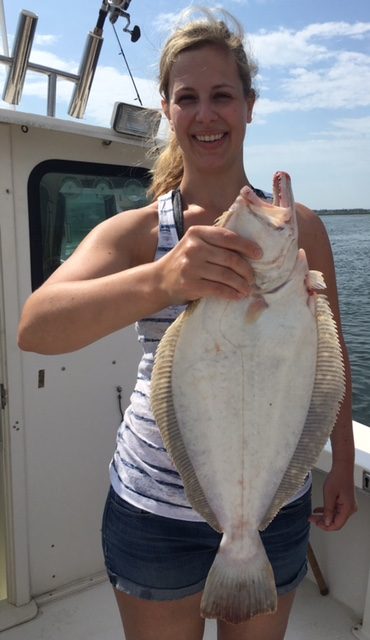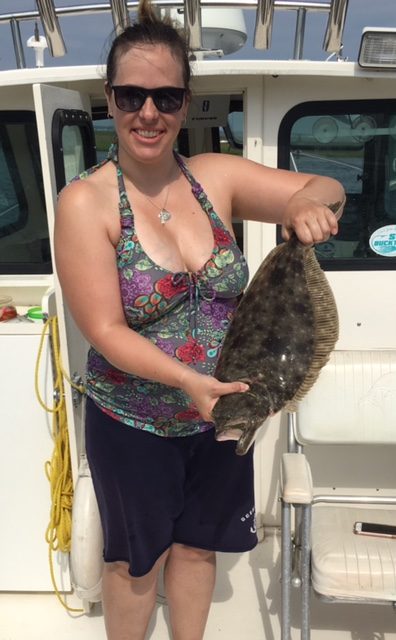 8/21/17
Today I had Andrew Benson of Glenside, PA, Kyle Scherrer of Chicago, IL, and Kyle Shea of Warminster, PA out for the last fluke trip before I head back to school. They made it count with 6 keepers to 8.5lbs!! The fish measured 26.5″, 26″, 25″, 22″, 20″, and 18″. The 3 biggest were 8.5lbs, 8lbs., and 6.25lbs.!!! With little wind, we were able to fish close to structure. Also, pumped to say all big fish came on homemade bucktails incorporating a little glow.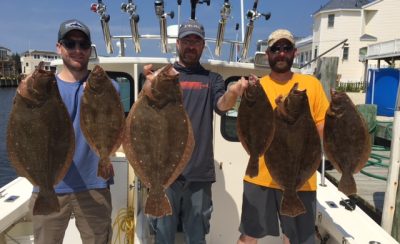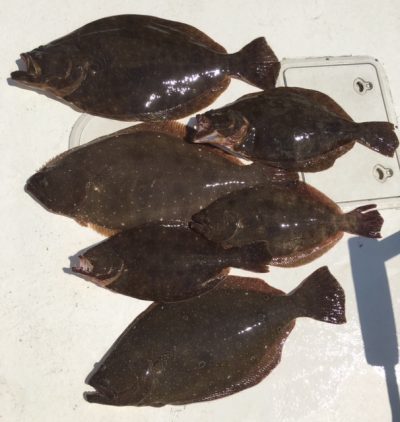 8/20/17
I had return client Mark Harvey of Perkasie, Pa out with his sons Ian and David. We put 5 keeps (22″, 22″, 19″, 18″, 18″) in the boat and had 20 fluke working wrecks for a few hours.
8/17/17
Today I had Mike Ondrejko of Summit, NJ out with his boys Luke and Shane for a couple hours. The crew worked through lots of shorts in the bay and it was Luke that was clutch on the last drift boating a 19″! Nice work for the trio bucktailing for their first time fluking!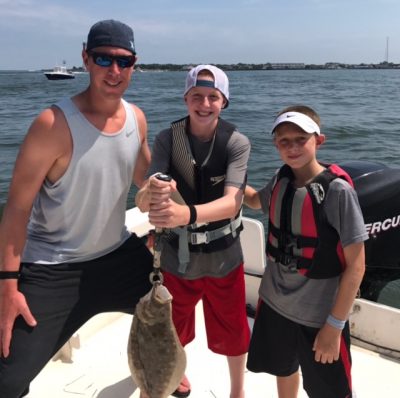 8/11/17
I had new clients Dave Cook of Wayne, Pa with his son-in-law Chris Brannigan, his kids Jack & Kate and grandkids Corey and Abby out for a bay trip. We started at inlet but drift was too quick so we moved and finally found some fish biting. The group boxed 3 keeps at 20″, 19″, and 18″, along with the 1st puffer of the year and a big blue that was lost in the bay. Great job by everyone!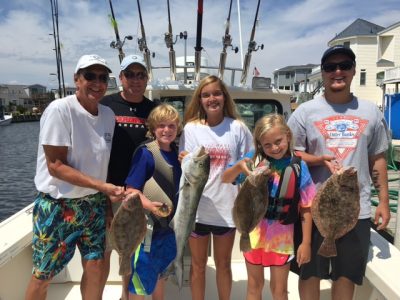 8/9/17
I had out Bob Meyer of Arlington, VA out with his wife Krista, son Nick, and family friend John. We worked the bay and had a slow pick of fluke. We decided to head to the ocean and worked 6 wrecks. We caught short after short after short. So many 17.75″ fish. Tough day. Our lone keeper was an 18″ sea bass.
8/6/17
Yesterday I had return client Dan Snead of North Jersey out with his nephew John. Thought we'd be able to get right on them after our last two trips put a total of 18 keepers in the boat. We were only able to manage 2 keepers with a nice 22″ and an 18″. We worked 8 different areas and just couldn't get dialed in. Guess that's fishing…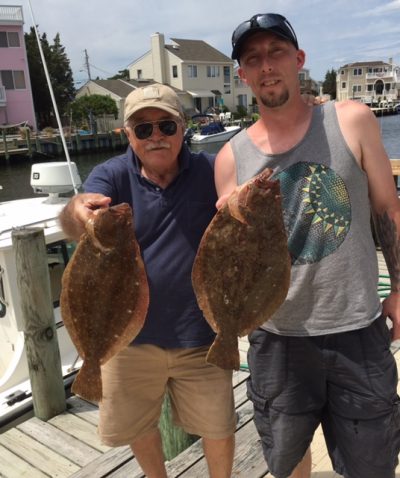 8/5/17
Fished a local tournament with "The Bonnie Anne", my sons Eric and Owen, and my nephew Andrew. We put 10 keepers in the boat!! Bonnie won "Largest Lady Angler" with a 22″ (3.59#) and Owen won 3rd heaviest fish (the largest kid fluke) in the kid division. Great time!!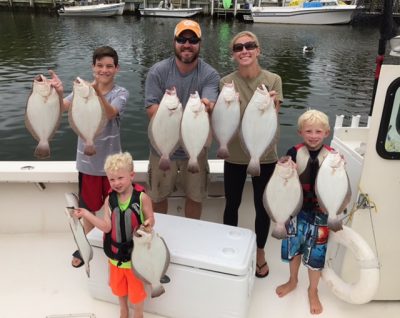 8/1/17
Family fluke day and the boys killed it! 8 keeper fluke, a sea bass and cocktail blue. Sean led the way with a 24.5″ as well as catching his limit! Even DaVesa boxed a keep!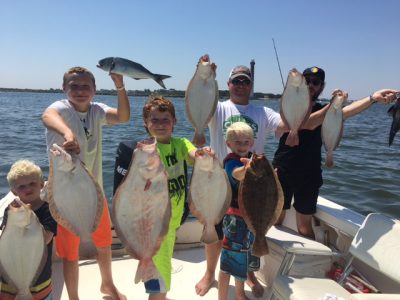 7/31/17
Today I had return clients Mark and Tara Harvey of Perkasie, Pa out with their son David for a sea bass/fluke trip. First, we worked a wreck and had 5 keeper sea bass along with many shorts. Mark added a nice 21″ fluke to the cooler to round out their catch. Beautiful day on the ocean after it was so rough the last few days.

7/28/17
This afternoon I had new client Jamie Dench of Scranton, PA out with his kids Luke (10) and Bella (5). Luke boxed a nice 18.5″ and lead the way with 10+ fish on our quick afternoon trip. Bella helped reel in a fish that just made 18″. The trio had many fish working the bay channels near the inlet. Nice work.

7/28/17
This morning I had return client Mike Pinto from Ridley, PA with friends Dave, Anthony, and newcomer Barry. Last week the guys crushed them in the bay and wanted some more action. With the slowed bay bite, we moved to structure in the ocean. We caught 3 keeps in the ocean to 20.5″ along with a single sea bass. Mike added a 4th keep on a few quick bay drifts. Nice catch for the guys!

7/27/17
Today I had repeat charter Ed McGinnis of Ed's Lead and Tackle out with his wife Cheryl and sons Connor and Brock. We had to work a variety of areas in the bay to find feeding fish. We did manage 2 keepers at 18″ and 20.5″. Fish are beginning to stack close to the inlet and ready to move out. Ocean fluking should heat up once the incoming storm moves through.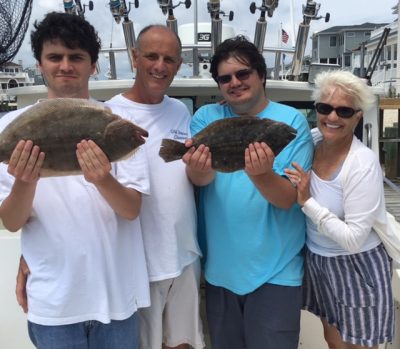 7/22/17

Today I had out regular charter Kyle Smith of Ridley, PA with friends Mike, Dave, and Gary. Usually, we first hit sea bass, but with the great fluke bite we went straight to the flatties. Good thing we did, because they put 6 in the box up to 21.5″. In previous trips, keeper fluke have eluded Mike, but not today. He added his 1st keeper to the box, followed by a 2nd, and a 3rd. Kyle and Dave helped out with the other 3 keeps.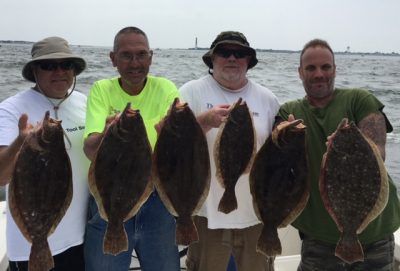 7/21/17
Today was a family fluke day with my kids Eric (7) and Owen (5), nephews Patrick (13) and Sean (11), and Millie (mother in law)! Owen stole the show boating 3 keepers up to 21″. 5 years old and limited out on fluke!! Millie added a 4th keeper to the box. We worked some new bucktail color combinations today and it paid off, catching 30+ fish in 3.5 hrs. Beat the heat and had a great morning.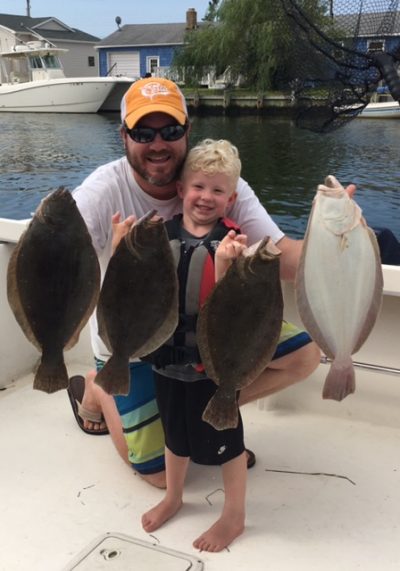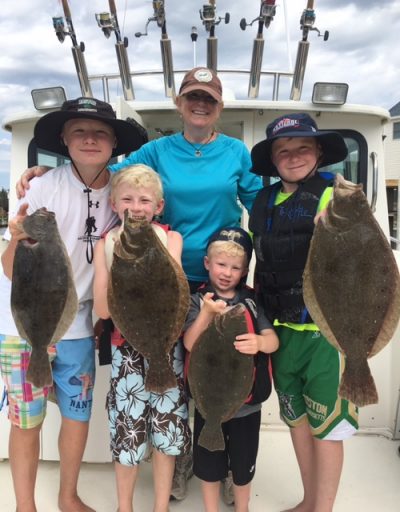 7/20/17
Today I had Frank Mancini of Abington, PA with his son Dominic and Perry DelRossi, also from Abington, with his sons Luke and Jake out for fluke. The group worked bucktails in the bay and boxed 4 keepers in addition to catching 40+ fish. Perry caught the largest at 21″, but 11 year old Dominic stole the show with 2 keepers – his first ever! Luke also added a keep to the cooler. Great job for the crew.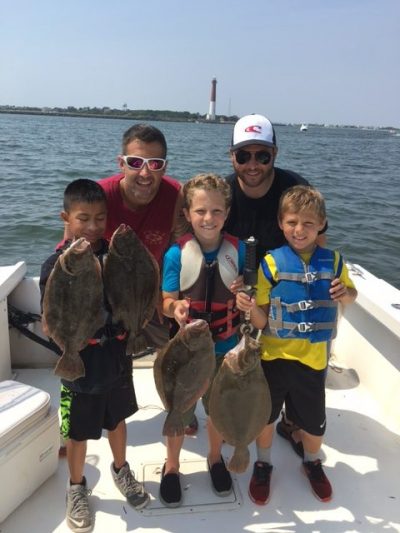 7/12/17
Today I had John Conzelman of Jamison, PA out with his brother Bob and Uncle Bob for fluke. The crew worked the fish, catching close to 50 fish and 4 keepers ( biggest at 20″) making the trip back to the dock. They had 5 fish over 17.5″ and just shy of 18″. Great job for the group today!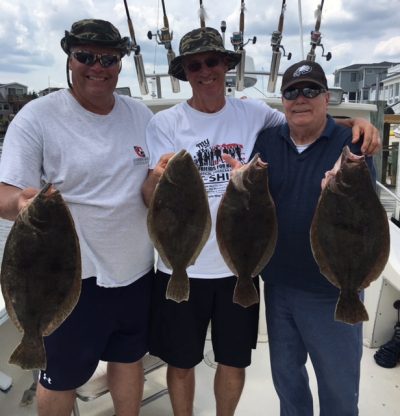 7/10/17
Today I had Matt Bailey of Coopersburg, PA with his kids Madison and Jay and their friend Damien Szlachta out for fluke. We found 2-3lb. blues at the inlet and played with them for a while. Matt had a 10+lb. that snapped the line at the boat (we saw it at least). Our first ocean location was terrible. We moved to the bay and after a slow start the bite improved. Madison showed the guys how it was done, catching 2 keeper fluke at 18″ and 18.5″. Damien was high hook with 15+ fish and ended with a 19″ fish on our last drift. Everyone kept the bucktails moving and did a great job!
7/9/17
Today I had Jim and Linda Henderson of High Bar Harbor, NJ out to celebrate Linda's birthday. The bay fluke were not cooperating and several spots weren't producing (2 close at 17.5″). We headed to ocean and Linda reeled in our only keeper at 19″. Jim caught a lot of fluke but his highlight was a very large stargazer! Very cool to see!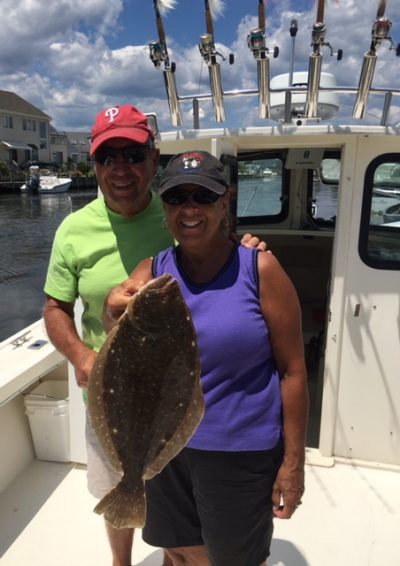 7/3/17
Repeat charter Dave Capone of Collegeville, PA and sons Gabe and Bryan returned for their yearly fluke trip. They beat last year's trip ending with 30+ fluke and 5 keepers to 20.5″. Fishing was great and they were watching the fluke attack their bucktails in only 3ft. of water. Awesome sight!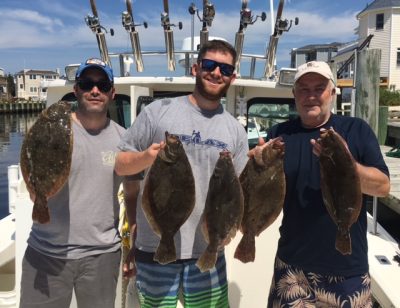 7/2/17
Finally was able to get out today with Bryan Yannuzzi, Ralph Manno, and John Sogluizzo of Fairview, NJ. The group worked the cold bay water and were able to bucktail 2 keepers at 20.5″ and 19.5″. The group had a great time and went home with some nice fillets. Back at it tomorrow.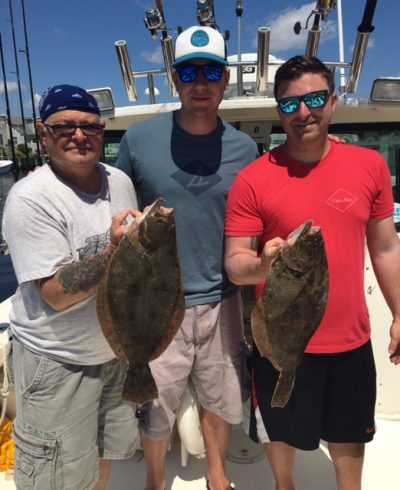 6/29/17
Today I had Rich and Carol Holihan from Perkasie, PA out with kids Zoe and Isaac. The group fought a tough wind all morning and could only manage shorts. Rich had high hook with 6 fish.
6/27/17
Today I had Chris and Amanda Felton from Chalfont, Pa out with their kids Anna (9), Luke (7), and Charlotte (1). Our first couple locations were not great. The group hung in there and once we found them stacked on a channel ledge, they went to work boxing 5 keepers up to 22″! Chris led the way with a 22″, 21″, and 19″, Luke had a 21″, and Amanda had an 18″.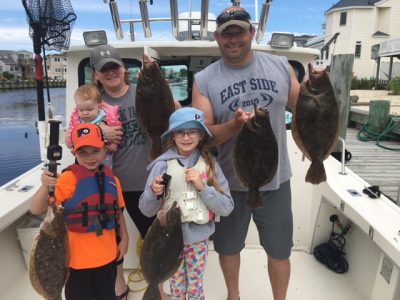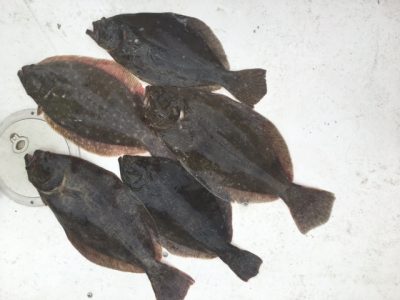 6/17/17
Today I had Brian and Jim Mcgee out with their father, Jim Sr., for their annual Father's Day trip. The trio boated over 50 fluke and took home 3 for dinner. The fish measured 23″, 19.5″, and 18.5″. Great day on the water.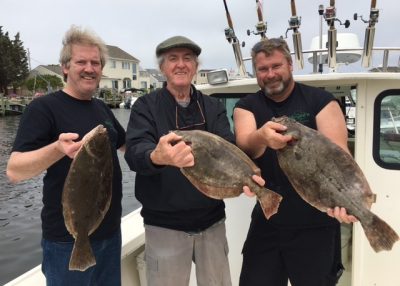 6/3/17
Regular Ed Mcginnis and Rod and Patty Smith were out for sea bass and fluke. The 1st and 2nd wrecks had fish but everything was small. We went to plan B for fluke. Ed had an 18.5″ fluke and Rod scored a 19.5″. We had well over 20 shorts.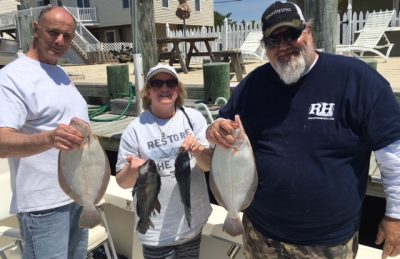 6/2/17
Regulars Kyle Smith, Dave and Mike out with newcomer Gary. Had over 50 sea bass but only 8 keepers. Gary took the pot with a 23″ fluke.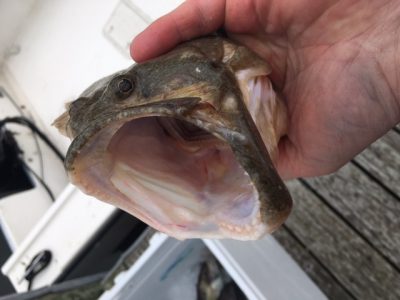 5/28/17
Day 2 with family. We hit the fluke hard today, boxing 6 keeps to 23″. Eric had the lucky pole with 23″ and 22″ fluke.
5/27/17
Seabass with family today. Managed 12 nice ones with tough anchoring issues. Owen stole the show with this 23″ humphead!
May 2, 2017
The Bonnie Anne is launched for the season with many new rods and tackle. Last weekend I had the family out for a shakedown trip in the bay. All the big blues we wanted! The biggest was 35.5″.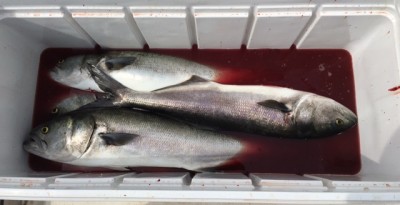 August 6th
Had return charter Ruth Kennedy out today with Tori, Fran, Mary and Ryan. We picked up an 18″ fluke in the bay before heading out to a bumpy ocean where the group hung in there to limit out on sea bass (12) to 18.5″, a bluefish and some mackerel. It should be noted Ryan (12) caught the largest sea bass on his first ever ocean fishing trip.
Had Mark, Tara, and David Harvey out for wreck fishing today. This was David's first trip ocean fishing. We found a good piece of structure and got out sea bass limit with several fish to 18″. We easily had over 60 fish and could be selective for larger keepers. Great trip for the group.
July 30th
Yesterday, I had the Rutherfords from Dallas, TX out for their 5th consecutive year. We ran a good distance in search of fluke but we were only getting shorts. We scrapped the fluke and changed over for wreck. The 2nd wreck was a small piece but held lots of fish. They brought home 8 sea bass, 4 ling and 2 nice tog. Scott, Becca, Joey, Michael, and Rachel did a great job and left with a couple bags of fillets. Save travels back to Dallas.
July 27th
I had Mark, Mary Beth, and Chris out for a wreck fishing trip. This was Mary Beth's and Chris' first ever ocean fishing trip. They loved it! Everyone caught sea bass and fluke and they brought a few sea bass home at my request to enjoy for dinner. On the ride back in, we came across a pod of dolphins putting on a show for us! What a great experience the three!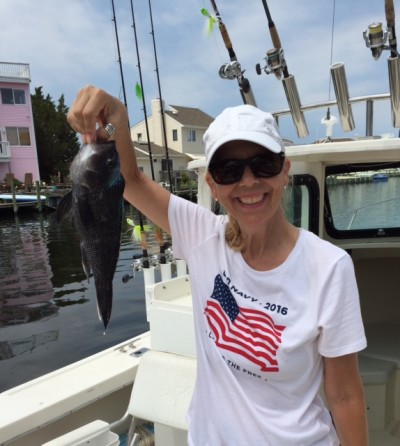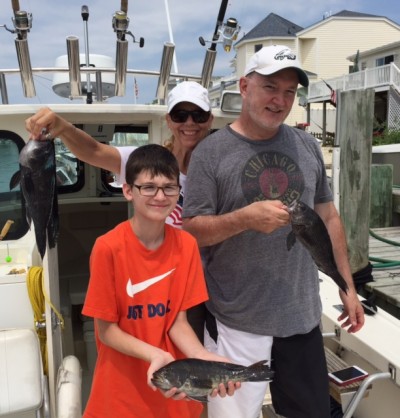 July 26th
Today, Vince Noonan brought his son visiting from Colorado out for a fluke and seabass trip. They left with a mixed bag of fillets. 3 keeper sea bass, 12 ling and a fluke.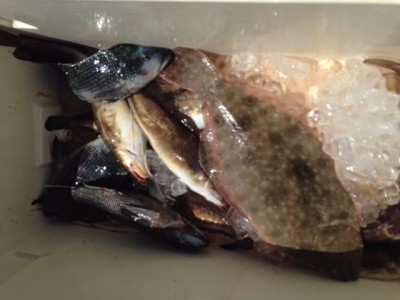 July 25th
Today, we had a late start with the storms. Returning charter Ed and Cheryl McGinnis from Ed's Lead decided to fish for fluke in the bay. They had a lot of shorts but couldn't get a keeper over the rail. We headed to the ocean but still the same, only short fluke.
July 24th
Today, I had returning charter Matt Ehleben and friend Tom out for fluke. We worked hard but we're only catching shorts in the ocean so we headed to a wreck. The guys brought home 3 sea bass and 4 ling for the table.

July 23rd
I had out Jim and Kyle McMullin and father in law, Earl. The crew began in the bay and battle wind against tide and chilly water and only managed shorts. We then headed to the ocean and picked a lone keeper sea bass. The water dropped to 65 and made conditions difficult. This was everyone's first time bucktailing and Kyle's first time ever fishing. They did a great job.
July 21st
Fished with my kids, nephews, and mother in law today and caught lots of fluke. The highlight was my 4 year old son bucktailing his personal best fluke that measured 22″. Barbara also added an 18″ fluke to the box.
July 19th
Ed and Lon Walsh along with Bryan, Jack (9), and Molly (6) Pullar were out for a 5 hour bay fluke trip. Jack and Molly boated the first two keepers that measured 18.5″ a piece. Ed picked another nice one that measured 23″. The group caught 25 fish today and had a great time. Ed and Bryan are also former marines and we thank them for their service! Great guys!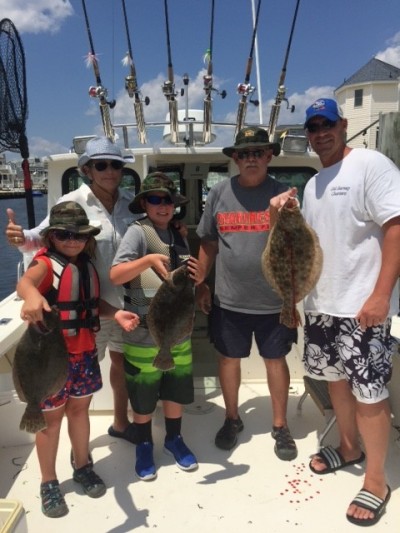 July 18th
Had the Drollett charter out today. Earl, Mark, Anne (Vermont) and Brent and 10 year old Liam (Doylestown) went on a wreck/fluke trip. They started with drop and reel on sea bass and porgies. After a couple hours and about 50 fish caught, we went fluking where we got them yesterday. We could only manage shorts and got in before the wind really got going. Fun day!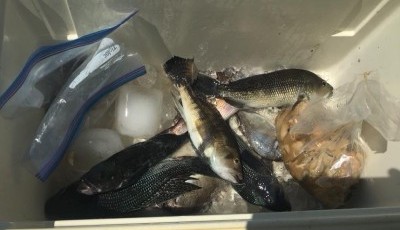 July 17th
Fished with my 2 oldest boys, brother, and nephew today for a couple hours. Left a bit later than the previous day in order to have a breeze and drift. Glad we did. 3 keeps at 24″, 20″, and 18.5″.


July 16th
We had 4x returning Kyle Smith charter out with Mike, George, and Dave. These guys always fill the cooler. After a 15 mile run to where fish were being caught, we had zero wind which gave no drift. No drift means no fluke. We then went seabassing and the guys fished through the shorts to catch 9 keeper sea bass.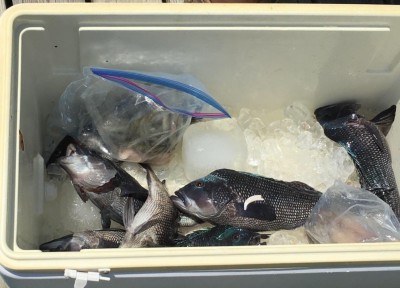 July 10th
The Ruth Kennedy charter from Abington, Pa had a fun day on the water! The ladies enjoyed drop and reel action on local wrecks catching seabass and porgies. We then headed to the bay for some fluke but could only manage shorts that measured 17.5″. Ruth got this nice hump head at our first wreck.

July 9th
Took my 2 oldest boys and mother in law out for a couple hours today. We got 2 keeps at 18.5″ and 18″.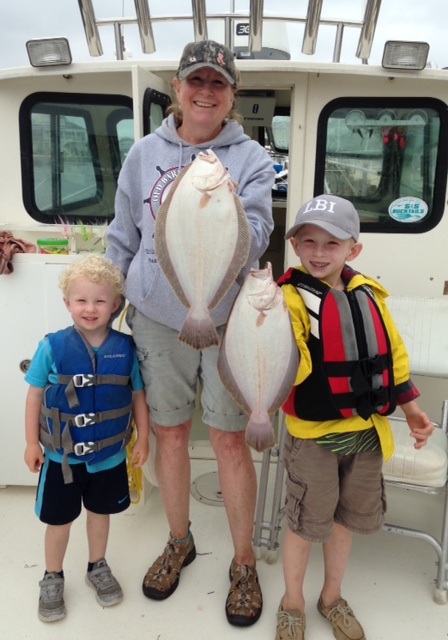 July 7th
Dave Capone of Collegeville, PA and sons Gabe and Bryan were out for a bay fluke trip today. After a slow start, we narrowed in on what the fish wanted to eat and caught plenty! The trio brought back 3 fluke taping out at 21″, 20″, and 18″. Great day for the guys!

July 6th
Had Rich Hollahan, Isaac, and Eric out for fluke and sea bass. We only could manage fluke that were 17.5″ and with a slow drift we decided to wreck hop. We caught our sea bass limit and Isaac all but threw in the towel due to "arm soreness" from reeling. Fun day!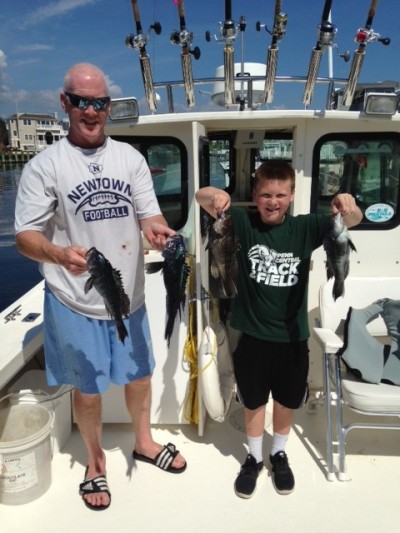 July 4th
Had Frank Bell of Hamburg, PA and 5 year old Franklin out for a 4 hour charter today. After lots of throwbacks in the bay, we headed to the ocean. Franklin kept track and had 16 fish today with a couple double header sea bass. But, it was dad that stole the show with a thick 6lb. fluke that went 24.5″. The pair added a couple sea bass for a nice bag of fillets.
June 29th
In honor of shark week, we went shark fishing today only to run upon a huge swordfish sunning itself 20miles from the inlet. He wouldn't take a bait but really cool to see. We saw giant leatherbacks, a mako, and caught a brown shark.
VIDEO OF SWORDFISH VIDEO OF LEATHERBACK TURTLE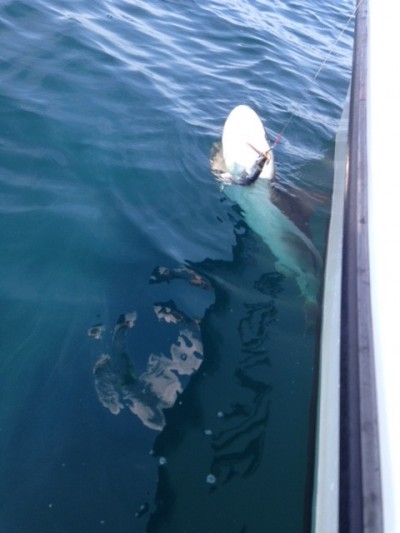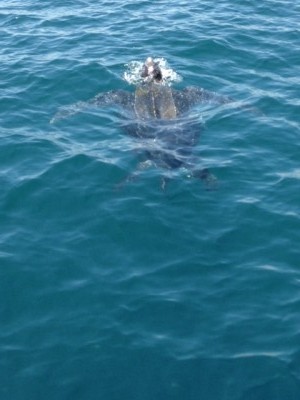 Had Brian McGee, Jim Jr. and Jim Sr. out for a pre Father's Day trip. After catching 20 nice keeper sea bass, the group decided to head in for some fluke on the start of the outgoing. They scored 2 nice keepers that went 19″ and 21.5″. Nice trip for the guys.

June 4th
Third time returning charter Kyle Smith, Mike, Dave, and Anthony wanted in on the wreck fishing. We had drop and reel fishing with 20 keeper sea bass and 3 nice ling. The crew easily had over 100 fish. We ended with the first hour of the outgoing tide, fought the slim "algae bloom" and only managed 6 short fluke. They will be back in July.
Memorial Day Weekend
I didn't take any charters this weekend, instead I chose to take my family fishing. "The" Bonnie Anne, my 2 oldest boys, 2 brother in laws and 2 nephews hit up a wreck to drop and reel. It was instant craziness with multiple double headers and lots of bait cutting. We put 24 keeper sea bass and a couple ling in the box and caught over a 100 fish. Kids loved it. Only a 2.5 hour trip. Perfect for the kids.
May 21-22
Two trips this weekend. First up we went in search of the striped bass that have been eluding us this season. We filled the live well with bunker, right next to a huge whale feeding on the beach, and then we brought our baits deep. Nothing would take. We trolled spoons for an hour but still no takers. Plan B. Blues in the bay. Nice racer blues saved the trip and the crew brought home some meat. Being opening day of fluke, we briefly gave it a go on the way in with only shorts to show.
Sunday we were held in the back bay with hard Northeast winds. The incoming was 58 degrees which made for a tough bite. We managed 2 keepers at 19.5″ and 19″. With the conditions we had, I'll take those keepers any day.
May 15th
Fished the ocean for stripers with the hard westerly winds. We found bait, and worked the snag and drop all morning but couldn't get any takers. We decided to have some fun with the 10-15lb. blues taking up residence in the BL inlet. We were tripled up multiple times and the highlights were the blues hitting the top water plugs with Old Barney in the background. Great fun!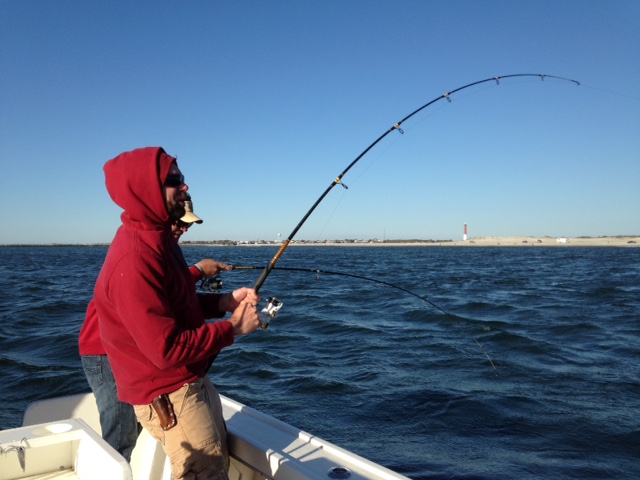 April 24th
First trip of the season Sunday with Bill, Ed, Greg, and Mark. The wind kept us inside. Trolled up 3 gator blues to 14lbs. using ponytails on the west side of Barnegat Bay. Working away from the fleet in 8-10ft. of water produced for us. We fished the beginning of outgoing tide using clam but didn't manage any takers.
August 16th
Matt and nephew Austin hit the ocean for some fluke today. They boxed 6 keepers at 24.5″, 23″, 20″, 19″, 19″ and 18.5″. The biggest fish went 5.25lbs. Nice day bucktailing flatties for the pair.
August 14th
Dan Snead and daughter Emma fished the bay, inlet and ocean and were rewarded with 3 keepers. Dan landed the largest at 24″, just making 5lbs. They added a 20″ and 19″ to the cooler before Emma had to head back for soccer tryouts. Emma was a sea bass master, catching 5 keeper sized that all went back of course.
August 13th
Ginger, Heather, and kids Brandon (11), Emelyn (10), Isla (5) and Laird (3) were out for a short inlet fluke trip. Isla landed the only keeper at 18.5″ and Emelyn had a double header fluke on the bucktail and teaser – not bad for the first time ever fluking!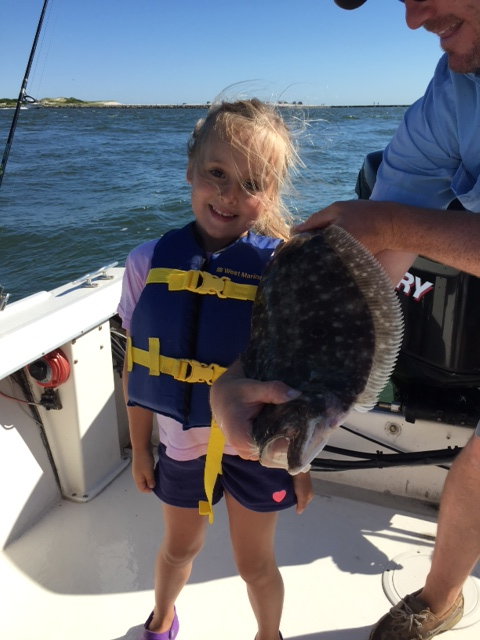 August 9th
Sunday, Jerry Gerth and family hammered the bay for fluke. There was tremendous boat traffic in the inlet area due to poor sea conditions. The group caught lots of fluke, but unfortunately none made the 18″ length.
August 5th
Fourth year returning charter Scott Rutherford and family from Texas were out for fluke. The group kept track and they caught 62 fluke. Of those 62 fluke, 4 taped out at legal size with their largest at 20″.
Colleen Crogan and family fluke fished the bay and managed lots of short. We ended the day with 2 keepers at 18.5″ and close to 20 fish.
August 1st
Fished the Stafford Hook n' Ladder fluke tournament with John Figaniak and Brett Taylor from Reel Reaction charters. We worked hard and ended the day with 7 keeper fluke to 21.5″. Unfortunately this did not place us in the fluke category. We did win the bluefish division with a 3lb. blue caught in the inlet.

July 29th
Ed McGinnis was back again today, this time with his sons Brock and Conner and friend Mike. The group worked hard but zero wind made for tough anchoring and a slow bite. The sea bass were small and the bite was slow. They added 3 nice sea bass and a couple ling. We headed to 40 ft. of water off the bathing beach but there was zero drift. Worked the channels near the lighthouse and added 2 fluke at 19″ and 19.5″.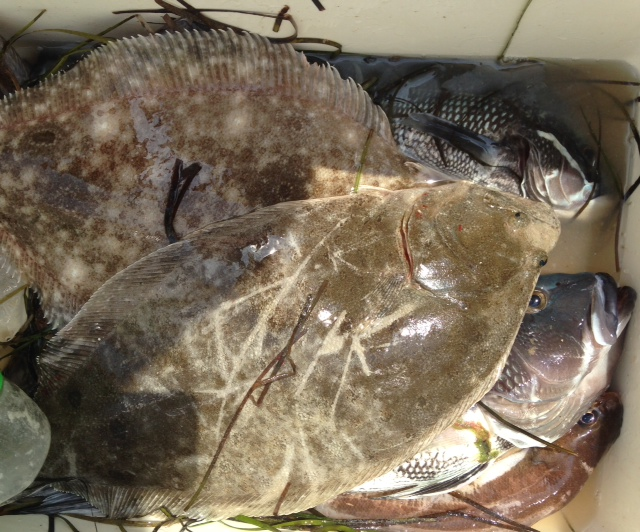 July 28th
Ed McGinnis of Ed's Lead returned for another charter with wife Cheryl to celebrate their 24th wedding anniversary. Celebrate the did with a great mixed bag catch. They limited on sea bass to 18″, 2 nice tog at 16″, 2 ling, and 3 fluke to 23″.
July 25th
Returning after a charter just several weeks ago, Kyle Smith, Anthony, Dave, and Mike had another great day. Hit a wreck for an hour and had our limit of sea bass, 7 ling, and a nice tog. Went to get on the great fluking in the ocean and ended the day with 4 keeper fluke that went 24″, 22″, 19.5″, and 19″.
July 24th
Ed McGinnis and John Figaniak were out for an open boat trip on 7/24. We fished the ocean and had 40+ fluke, all biting bright Gulp!. Ended with 5 nice fluke that went 23″, 23″, 19″, 18.5″, and 18″ and added a cocktail blue and sea bass.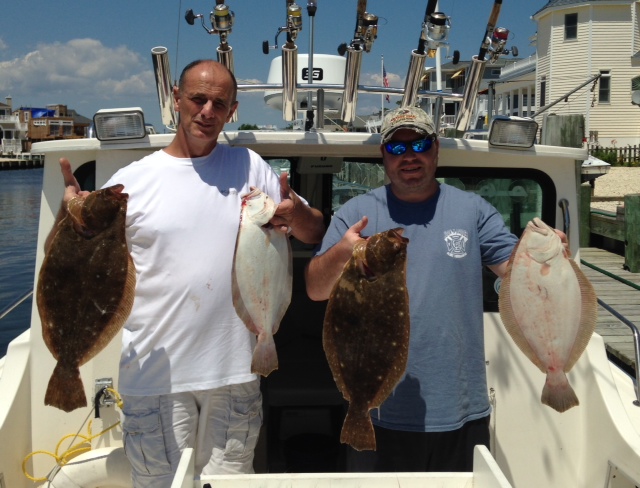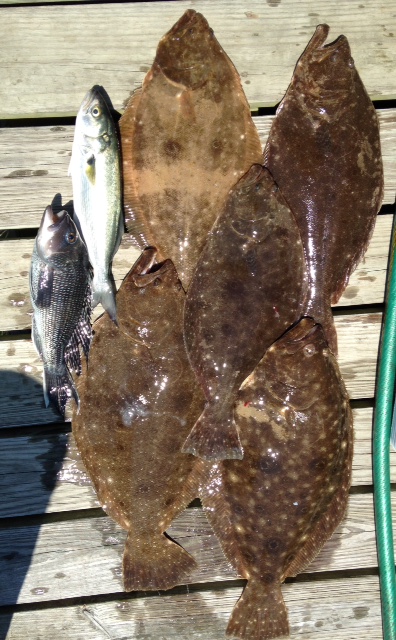 July 20th
Seth Newman, daughter Izzy and son Max had a great day fishing in the ocean. The group managed 30+ fish in 3 hours of fishing, including a fat 23″ and 18″ fluke.
July 14th
Similar to the previous day, the Steve Bittner charter was ended early due to severe storms. We saw the weather coming but scheduling conflicts had us try to get out and get a couple fluke before it turned. The group worked bucktails but could only manage shorts in the bay. The cloud to ground lightning is nothing to mess with and ended our trip early.
July 13th
Had teachers from Tamanend MS aboard for bay fluke fishing. They managed 1 keeper before the weather brought us in. The ladies worked through many shorts and surely would have managed more if the weather had not turned.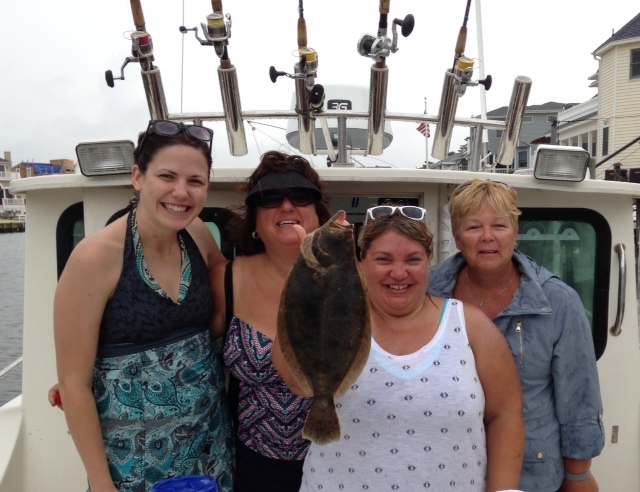 July 12th
With the flat calm seas Sunday, I took my wife and boys (3 and 5) on a trip up to NYC to see the Statue of Liberty up close. Awesome ride along the beach and a memorable experience aboard The Bonnie Anne.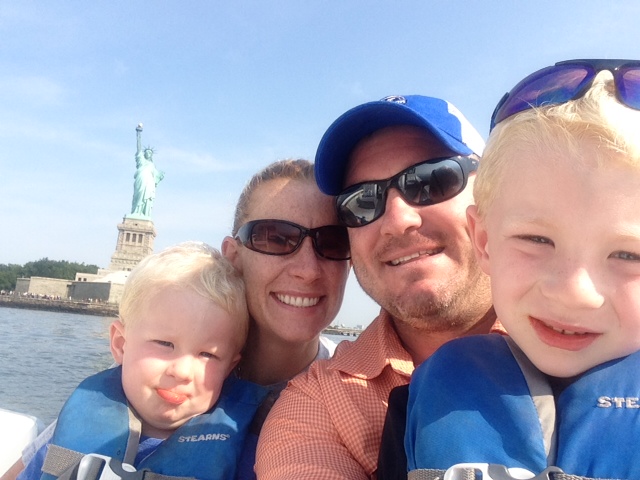 July 11th
Saturday had returning Losey and Pullar charter out in the ocean for seabass and fluke. Fishing was fast and Ben (10), Jack (8), and Julia (8) were reeling within seconds of being anchored up. We had many short seabass in the mix but caught our limit of quality seabass in no time and then decided to fluke (against the kids' advice because of how much fun they were having catching seabass). We added a fat 22″ fluke to the box and called it a day. We had several other shorts but overall fluking on GSN was a little slow.
July 9th
Pat St. George charter fished for fluke in the bay. Twins Rogan and Owen (8) and cousin Kira (7) worked for their fish and managed 1 keeper at 18.5″. They also saw their uncle John fight a cow nose ray in the inlet for some time before releasing him boat side.
July 6th
Finally got back out after a hectic end of the school year, vacation with the family, and spending some time with the extended family over the 4th holiday. Got out for some seabass with my kids, Bonnie, nephew, and brother. Put some quality seabass in the boat, some blues, a porgy, and the highlight was a 9lb. tog for my nephew. His first tog, ever, and it had to go back because it was out of season. It was a beast! Trips are starting pretty regular for me now. Out Wednesday and Saturday, Monday, and Tuesday. Sunday is available.
June 7th
Returning charter George Smajda, wife, daughter, and boyfriend went fluking today in hopes of good bite from Saturday. The bite was not as steady. Group caught about 2 dozen fluke with 1 keeper at 22″. Not a bad early season fish for Dan. Was the biggest fish he's ever caught. Nice first fluke!
June 6th
Had Kyle Smith charter out today. Plan was to fish for stripers but the slow bite and good fluke bite changed up to fluke. Good thing. Kyle, Dave, Mike, and Anthony managed 40+ fish with 4 keepers to 21″.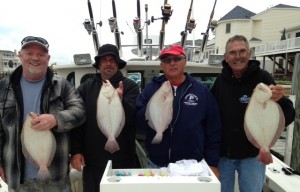 May 30th
Eric, father, wife, and son went seabassing today. The pea soup fog had us slow out of the inlet and the cold water slowed our bite. We managed only 4 keeper seabass, many throwbacks and a throwback cod.
May 24th
Opening fluke for us. Caught some shorts with the family and then got a nice 19″ and a 24″ fatty.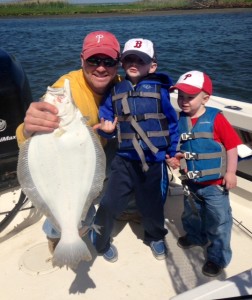 May 17th
Had Ralph and Matt Polito out for striped bass. We could not locate bunker pods or pick any up on the troll. We put out spoons, umbrellas, shads, mojos, and nothing would get them. Tough day.
May 2-3
The 2015 season is underway and we got in on some of the fantastic bluefish action in the bay. We hammered the yellow eyes Saturday night and Sunday morning. Some of the biggest blues I've seen in the bay and inlet. Tons of fun and the kids, wife, and myself had a blast.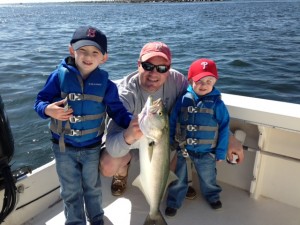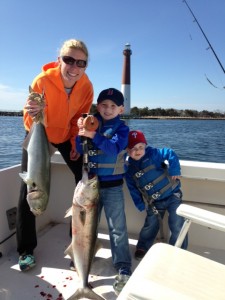 August 8th/11th
Monday, took first time charter Dave Dering, Alex, and Andrew to the GSN for fluke. We added 4 species to the box. Fluke at 20″, ling, 8 seabass, and a nice tog.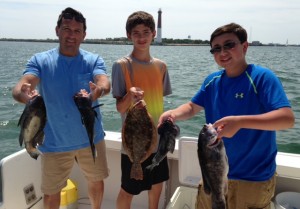 Friday took the Crogans from Boston out again for a fluking trip. Colleen caught her first fluke at 19.5″. We added some seabass to the box and called it a morning.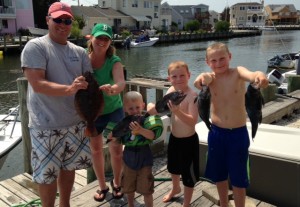 August 5th/6th
Wednesday had the Rutherfords from Texas out for their annual fishing trip. This is their 3 year in a row. We headed back tot he ridge and caught many more hard fighting bonito along with some 2-3 lb. blues. On light tackle, they had a lot of fun with these fish.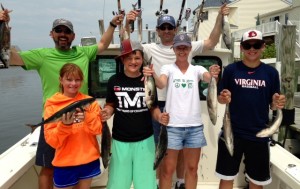 Tuesday had family out and caught all the bonito we wanted at the ridge. It was my son's first bonito! Hit some wrecks on the way in and caught some ling and seabass. LINK TO VIDEO OF 4 YEAR OLD ERIC REELING IN HIS FIRST BONITO.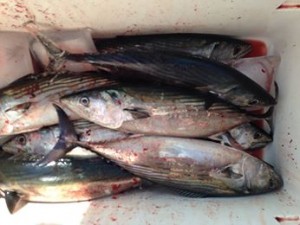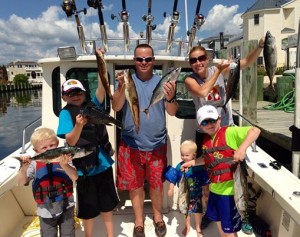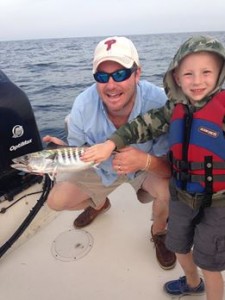 August 4th
Fished the bay and caught short fluke consistently. Finally managed a keeper at 19.5″ by my mother in law.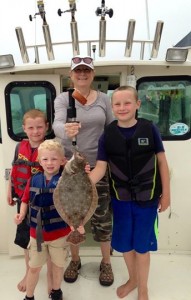 July 30th
Joe Villa took his kids, Jake and Gabby, out for some ocean fluke fishing. Put 2 fluke in box up fluke to 23.5″ and seabass to 16″. Keeper fluke caught on whole squid.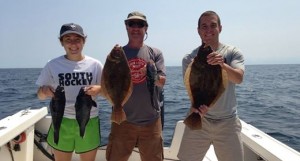 July 26th
Fished the Stafford Fire Department Hook N Ladder fluke tournament today. We finished 4th with our largest fluke at 4.22lb. We had 2 keeper fluke, 7 sea bass and 7 ling. Nice day on water.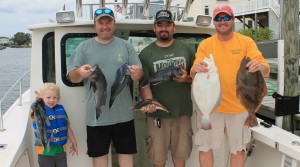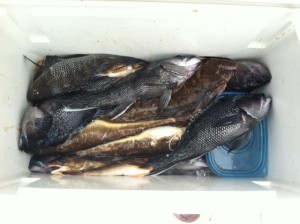 July 23-24 Puffers make an appearance
Doing some fishing and scoping of new spots with the family. The 1st blowfish of the year made it over the side, with some kingfish, and more keeper fluke. The bay is LOADED with fluke right now but most of them are shorts. We did manage this keeper Thursday morning in the bay. I am fishing the Hook N' Ladder Fluke tournament on Saturday.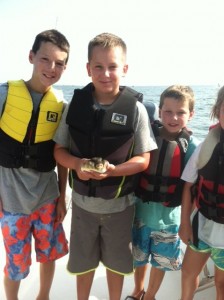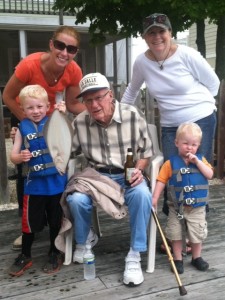 July 17
Matt and Ralph Polito put together a nice trip with a 22″ fluke, 3 keeper seabass, and a ling. The water is still cold at 65 and putting together nice catches remains a challenge. Need to keep at it.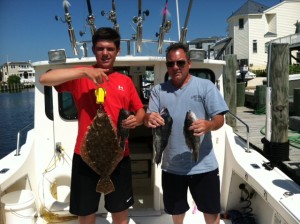 Week of July 6th
Saturday, the water warmed and the bite was better. Father/son Josh and Ben Losey along with father/son Brian and Jack Pullar put together a nice catch. 2 fluke measuring 23.5″ and 24″. They weighed 4lb. and 4.5lb. Ben and Jack were 1st time anglers and caught 14 and 13 fish a piece.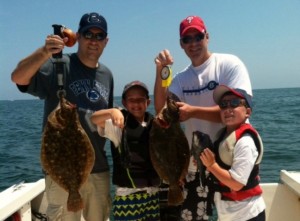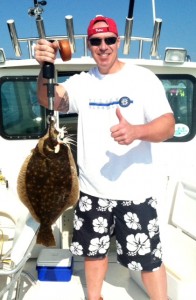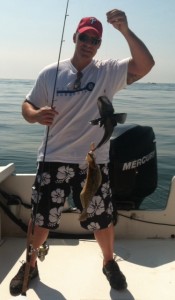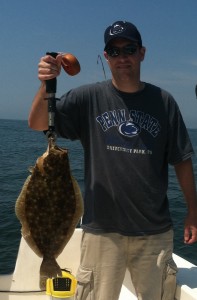 Friday, we made into the ocean and John Galliano Jr. and Sr. caught seabass and ling.
The cold water has made fishing tough this week but we will keep at it.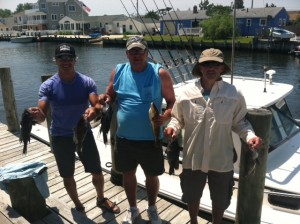 Wednesday was a similar situation with cold water and a slow bite. The Pat St. George charter caught short fluke and 7 year old twins Rogan and Owen caught their first ever fluke.
Tuesday had the Jerry Cronin charter out fluke fishing. Only could manage short fluke but Grady, Mason, and Ava all caught their first fluke which was a success for them.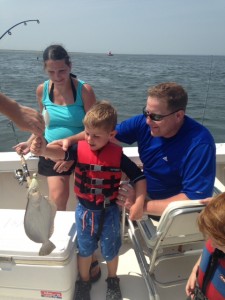 June 7th and 8th

On Saturday, had returning charter of Joe Villa, Brian and Stephanie Coyle, and Karl Schmidt out for stripers. Could not find an active pod so we went on the troll. Brian boated the first on a white Maja spoon that weighed in at 38lb. Brian's daughter Stephanie would not be outdone and bested dad with her first ever striper, a 39lb. on the same spoon. The fish taped out at 44" and 45". Before returning to the dock, we managed a nice keeper fluke inside on an S&S bucktail.
Sunday had out Bob, his son Rob, and his father-in-law Jack for stripers to celebrate Bob's 60th birthday. Bunker were scattered and the bass were elusive for us. Did hear of one active pod mid-morning off the bathing beach. We decided to hit a wreck before going in and worked our way to a dozen keeper sea bass to 18" and a couple ling.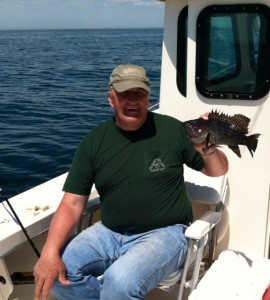 May 26th
Happy Memorial Day! This weekend was all about family and friends! Saturday's short, early morning trip boated a nice 30lb. bass live lining bunker off IBSP and we were back before 9am for family activities. The fish inhaled the bunker and tore drag for a solid minute before John Figaniak could slow it down.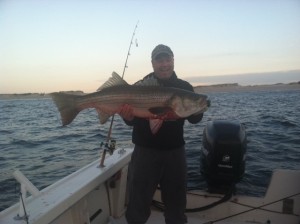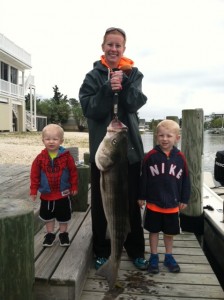 Sunday I had my 4 year old son, Eric, out for a fluking trip. We only managed shorts but there was some great learning happening and we did manage to fish some new areas that look promising.
Monday we were back on the bass. The mission was to get the Bonnie Anne (my wife) her first ever striper. We succeeded and she got a fat 36lb. striper while trolling a stretch. Check out the video on you tube. Awesome!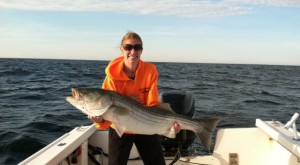 May 19th, 2014
Got out for first trip of the year on a shakedown run and boated a 33# that stretched out to 40". Fish was caught in 45ft. off BB and went for a red headed Mann's stretch on an umbrella. Trolled spoons but didn't get a touch on them. Bait was spread out with the occasional tight bait ball.